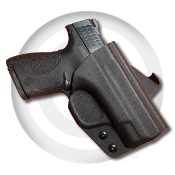 OWB – Outside the Waistband Holster
Worn on the outside of the waistband [OWB] to conceal weapon.
An OWB holster on a dedicated gun belt is a non-starter for concealed carry, so we need only consider holsters that attach to the belt that holds up your pants.
OWB holsters can be used with handguns of any size, but are particularly applicable to full size and compact service pistols, which have a limited number of carry options. The holster should precisely fit the belt.
OWB holsters are the best option for a fast draw and reholstering is comparatively easy. OWB Holsters require a coat or a shirt untucked to conceal weapon.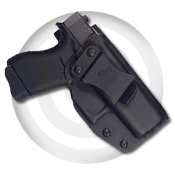 IWB – Inside the Waistband Holster
Worn on the inside of the waistband [IWB] to conceal weapon.
A holster that rides inside the waistband of trousers can be an unobtrusive method of concealed carry.
Concealment is superior to an external belt holster or paddle holster, although some sort of coat/jacket or shirt untucked must always be worn.
A short barreled handgun and a stiff belt are required for best results. Pants and belts should be purchased in a waistband size that includes the gun and holster.
Most inside the waist band (IWB) holsters can be worn cross-draw or on the strong side, depending on the situation and wearer preference.
A clip-on IWB holster and gun can be quickly discarded.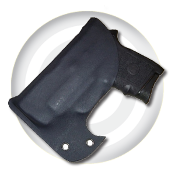 Pocket
The smallest guns fall into the Deep Concealment or Mini-Gun category. Worn inside the pocket.
These are the true "pocket pistols," in that they will literally fit into most jacket or pant pockets.
A pocket holster allows acquisition of a full firing grip, prevents "print through" and keeps pocket guns in a consistent position.
Full or Partial Sweat Shield
An option available on certain holster styles.
Helps keep perspiration away from the weapon and "guides" to assist in re-holstering your weapon.
Mid-Rise
Holster position on the belt loop. Allows for excellent weapon protection for a quick and easy draw.
Deep Concealment
Holster position on the belt loop. Ideal for larger / full size + gun models.
Cross Draw
Gun is carried butt-forward on the side of the body opposite the dominant hand, so the shooter reaches across the torso to draw.
Strong Side
If you are right handed the gun is worn on the right side, with the handle in the proper position so you can grasp and draw your gun with the correct
grip and shoot as quickly as possible. There is no need to reach across or around your body because your strong hand is already close to the firearm.
Appendix Carry
Gun is holstered in front of the hip, on the dominant hand side.
FBI Cant
Gun is positioned in holster in a slight angled position to the ground.
Straight Draw
Gun is positioned in holster in a perpendicular position to the ground or vertical position.
KYDEX®™
A line of thermoplastic acrylic-polyvinyl chloride materials manufactured by KYDEX® LLC. It has a wide variety of applications, including firearm holsters and knife sheaths.
Holstex™
A premium grade DIY thermoform PVC based sheet material. It is textured on both sides and has a wide variety of applications, including firearm holsters and knife sheaths.